Hearing the Message of Scripture: A Commentary on the Old Testament is a new series of commentaries Zondervan have been released, and we have featured them here at Books At a Glance here and here. Dr. Block is well known for his expertise productive work in Old Testament studies, and we are excited to see each volume in this series as they become available.
We are also very pleased that he could talk to us about this work, along with some helpful personal touches.

Books At a Glance (Fred Zaspel):
Beginning on a personal level, please tell us something about your own background. What led to your interest to specialize in Old Testament studies?
Block:
I am #9 in a family of fifteen children from the hinterland of Saskatchewan. My father was a bi-vocational minister (as were most Mennonite Brethren pastors 70 years ago), which meant that the Scriptures were treasured in our home. My father was a fine expositor of the Word. My particular interest in the Old Testament was sparked by a pastor when I was at the University of Saskatchewan. Rev. Henry Harder came from our seminary in Fresno to pastor our church for a couple of years. Having taught Old Testament for years at the seminary, he brought to life the only Bible Jesus and the apostles had. This spark was later fanned into flame by Walter C. Kaiser, my advisor when I was a seminary student at Trinity Evangelical Divinity School
Books At a Glance:
How did this new commentary series come about? And how did you become involved?
Block:
For forty years I have been committed to a method of inductive biblical study that only later I discovered was a[n unsophisticated] form of discourse analysis. When I was working on my commentaries on Ezekiel (vol.1 and vol.2), Judges and Ruth, and Deuteronomy, my first task with each literary unit was to diagram the text, based on its syntax and the relationships of principle and subordinate clauses. This led me to many exciting insights that I did not find in other commentaries and made the message of the Scriptures live for me. I have shared my method with my students for forty years and watched with delight as their eyes lit up in the wake of their own discoveries. In the course of producing my commentary on Deuteronomy (NIVAC) I had a brief discussion about my method – and its payoff for discovering the message of specific biblical texts intended by the authors of those texts – with the editors at Zondervan and suggested we needed an entire commentary series rooted in some version of this method. Some years later, they approached me and inquired whether I still had interest in this kind of project. I am delighted to say that we are beginning to see the fruit of that vision.

Books At a Glance:
What is the particular niche that this series is attempting to fill? What contribution are you hoping to make?
Block:
The series assumes that the Scriptures are Christians' supreme authority for faith and life, and that the authority of our interpretation of the Scriptures is directly related to the extent to which we have grasped biblical authors' intended meaning. We need to hear the message biblical texts purposefully convey, rather than imposing on them meanings from outside or from within ourselves. The text of Scripture is the base of biblical authority. The series also assumes that guided by the Holy Spirit biblical authors intentionally crafted their texts to convey their intended meanings. Access to those meanings depends upon careful attention, not only to the words of Scripture, but also to its syntax. But syntax extends far beyond the structure of individual sentences; it includes to the structure of compositions and the interrelationships of sentences and paragraphs and strophes. The questions that drive the series are: (1) What message does a biblical author intend to convey that Christian readers need to hear. (2) What rhetorical, literary, and discourse strategies does the biblical author use to make that point? (3) Why is that point important for grasping the theology of this book and of the rest of Scripture, and for guiding modern hearers in right thinking about theological and spiritual matters and right ethical living.

Books At a Glance:
As long as we know the main point and message of a passage, why do we need to understand how the author communicates that meaning? In other words, why the focus on the author's rhetorical strategy rather than simply the effects of that strategy?
Block:
Here the key question is, "Why does the text say it like that?" In a sense biblical texts represent fossilized communication. We hear no voice and we see no non-verbal gestures. Our only access to the mind of the divine and human authors of that text is through careful attention not only to the vocabulary of Scripture (word studies – which is what commentaries have traditionally done very well), but to how words and phrases and clauses are put together to communicate eternal truth. When we discover why biblical truth is communicated the way it is, in a sense the authors become conversation partners, encouraging us to read what they have written as a living and life-giving divine word. For those who write these commentaries, this is an invitation to new discoveries, and an opportunity to share their excitement over those discoveries with readers who hopefully will hear the message of Scripture with them.
Books At a Glance:
Do you have any advice for pastors who want to (or sense that they should) preach from the prophets but are intimidated? How should pastors handle the OT prophets?
Block:
The evangelical Western church has a problem not only with the literature of Old Testament but also with its message. The problems include the genres of literature, which they find strange, and the message of that literature, which they find inaccessible or objectionable. Unfortunately, the more we recognize the problem, the less we do to fix it. Furthermore, we have cast the Old Testament, including the prophets, as a negative foil against which to interpret the New Testament. The Old Testament as texts and their message as revelation are themselves problematic, problems that in the minds of many, the New Testament Gospel fixes. Despite our creedal statements ("all Scripture is inspired, authoritative, and useful), our theological systems prevent us from reading the entire Scriptures as a unified collection of texts, telling a grand story that climaxes in Christ. Consequently we are not prepared to recognize in Jesus the embodiment of YHWH, the God of Israel, and the God of the Old Testament, or to hear its brilliant and persistent message of grace. The prophetic books were addressed to people who, in the closing centuries of the divided kingdom's history, had trampled underfoot the grace of God, and had squandered the mission to which God had called them. Unless we grasp the magnitude of divine grace in calling Israel to be his people – for a universal and missional purpose – we will not understand the passion with which the prophets sought to call Israel back to covenant relationship with YHWH.

Books At a Glance:
Which of the OT prophets (or OT books) do you think are most needed by the church today?
Block:
This is a difficult question. If we are preoccupied with messianic issues, then the answer is probably Isaiah, for he presents a brilliant and remarkably full-orbed image of the messiah, climaxing in Isaiah 53. I may be biased because of my own involvement, but helpfully for the western church Ezekiel paints a picture of what happens when people retain their creedal orthodoxy but have lost their sense of mission and the connection between faith and life. What is the point in having the right theology if the way you live is indistinguishable from the world around and your status as the people of God yields an arrogant disposition and a loss of missional vision. In the end, the little book of Malachi may actually be the most important for the church, because it describes in embarrassingly modern terms the wide-ranging ethical and spiritual symptoms of a people who claim to be the people of God but had lost any hint of reverence and awe before him.

Books At a Glance:
How many volumes are projected for this series (HMS)? And when do you expect it to be completed?
Block:
We hope to have one volume for each of the Old Testament books, with exceptions where biblical books themselves come in two volumes (1 & 2 Samuel and 1 & 2 Kings will appear in single volumes).

Books At a Glance:
Are there any other projects you are working on right now that we can watch for?
Block:
My ten year project on For the Glory of God: Recovering a Biblical Theology of Worship is at the publishers in the final stages of editing. After many delays, it should be out in August. Apart from individual essays on Deuteronomy and various aspects of Old Testament theology, I have contracted to convert my research on Ezekiel two decades ago into a sermon series, which will be published in the "Preaching the Word Series," edited by Kent Hughes (Crossway). But I need to retire first, so I can devote all my energies to that. I am contemplating a volume on Covenance: A Whole Bible Perspective, which would examine the forms and expressions of covenantal thinking in Scripture and the interrelationships among the various covenants so central to biblical revelation. We will see.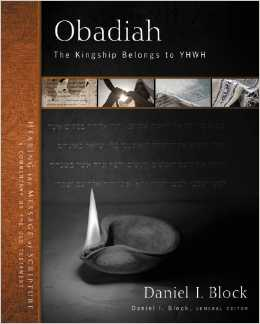 Obadiah: The Kingship Belongs To Yhwh