A Brief Book Summary from Books At a Glance
By Benjamin J. Montoya
About the Author
Mark T. Coppenger is recently retired Professor of Christian Philosophy and Ethics at Southern Baptist Theological Seminary in Louisville. A Christian View of Justice is one of his earliest works.
Introduction
What does the Bible have to say about public policy? Both sides of the major political divide, as well as the less influential parties, in the US can be found citing the Bible to support their parities. What are we to make of that? What does the Bible have to say about justice, the larger framework for understanding public policy?
Table of Contents
Introduction
Chapter 1  God, the Father
Chapter 2  Desert
Chapter 3  A Matrix
Chapter 4  Statue and Administrative Law
Chapter 5  Case Law
Conclusion
Chapter 1: God, the Father
To understand what the Bible has to say about justice, we have to begin where the Bible does. The Bible begins with a description of what God the Father does. What, then, does it tell us about justice in relationship to God the Father? Is He concerned about it?
God the Father is concerned with justice. One of the ways that we know that is because He has given us His Law that is designed to be both beneficial to mankind, to provide happiness, and to provide a basis for justice. After all, God created mankind, told him what to do, what not to do, etc.
What, then, does the Bible have to say to unbelievers? People who do not believe in God or who just rebel against God, do they get some kind of out from obeying God's Law? There are many similarities and dissimilarities between believers and unbelievers. Some unbelievers choose to live alternative life-styles. The Bible, however, condemns these life-styles. Why is that? Because God is the Creator, He is wise enough to know what is best for man, and his happiness, and what is not.
The key takeaway from this chapter is that God the Father directs us to the true happiness we seek. And His instructions apply to everyone and point everyone to that happiness as its basis. To understand justice, we must keep it in the context of understanding who the Father is. Justice, specifically, concerns the righteousness of nations, not the total discussion of righteousness. Thus, our understanding of public policy from a biblical perspective must begin here.
Chapter 2: Desert
It is important when reading a book to come to "terms" with an author, that is, understand the way in which he/she is using and defining words. We, then, must be careful how we understand the word "desert." We may be tempted to think of a sandy, hot, dry place, but that definition is not in view here. What is in view is the consequences of our actions. When we do something good or bad, there are real consequences for our actions in our society.
[To continue reading this summary, please see below....]
The remainder of this article is premium content. Become a member to continue reading.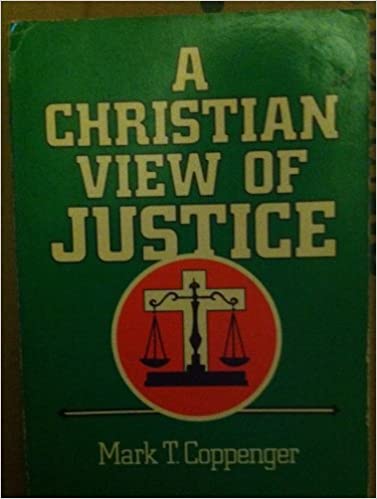 A CHRISTIAN VIEW OF JUSTICE, by Mark T. Coppenger