A Brief Book Summary from Books At a Glance
By Benjamin J. Montoya
About the Author
Erwin W. Lutzer (born October 3, 1941) is an evangelical Christian pastor, teacher and author. He was the senior pastor of The Moody Church in Chicago, Illinois, from 1980 to 2016.
Introduction
There are many popular and well-known myths in the world. But did you know that there are dangerous myths that could destroy America, both within and outside of the Church? Consider this crucial book by Erwin W. Lutzer to learn more. The Church must understand and combat these myths in the war it wages with the world.
Table of Contents
Chapter 1  The Myth That the Battle Isn't Real
Chapter 2  The Myth That Life Began with Blind Chance
Chapter 3  The Myth That We Can Have Morality Without Religion
Chapter 4  The Myth That Whatever Is Legal Is Moral
Chapter 5  The Myth That Morality Cannot Be Legislated
Chapter 6  The Myth That the Roles of Men and Women Are Interchangeable
Chapter 7  The Myth That a Fetus Is Not a Baby
Chapter 8  The Myth That We Can Ignore the Ghost of Karl Marx
Chapter 9  The Myth That Pornography Is a Harmless Adult Pleasure
Chapter 10  The Myth That the Church Should Have No Voice in Government
Chapter 11  The Myth That We Can Take on Water and Stay Afloat
Chapter 12  The Myth That We Can Win the War Without Sacrifice
Summary 
Chapter 1: The Myth That the Battle Isn't Real
There is a real battle going on within America that many might not be aware of, and even tempted to ignore. Doing so would be to embrace a myth. The battle that is going on within America is the same battle that Adam and Eve faced in the Garden of Eden. The battle is between following God's rule or man's rule. The way that man's rule has evidenced itself today is in the building blocks of secular humanism. This view is summarized well as follows as Paul Kurtz has explained, "We can discover no divine purpose or providence for the human species . . . no deity will save us; we must save ourselves . . . promises of immortal salvation or fear of eternal damnation are both illusionary and harmful." The building blocks of this view are as follows:
Atheism
Evolution
Moral Relativism
Freedom of Inquiry
One World Government
Chapter 2: The Myth That Life Began with Blind Chance
One of the popular and highly influential myths today is that life began with blind chance. This view is typically identified with the position of evolution from Charles Darwin. He believed that we evolved into the current life forms we are in today through a blind process of chance. This view dominates most places, especially in public schools and universities.
[To continue reading this summary, please see below....]
The remainder of this article is premium content. Become a member to continue reading.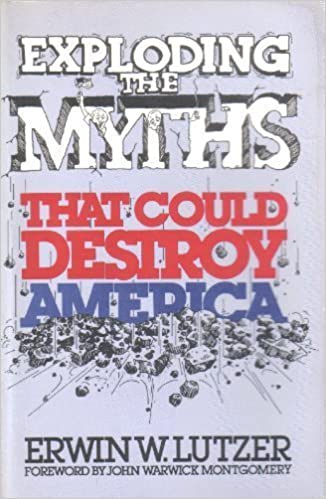 EXPLODING THE MYTHS THAT COULD DESTROY AMERICA, by Erwin Lutzer